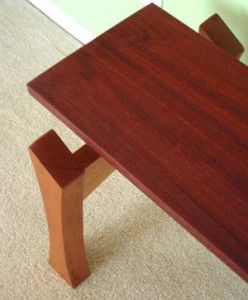 I started working with wood as a young man helping my father build and remodel homes. I enjoyed the hands-on experience and developed a deep appreciation for the craft and the versatility of the material. I combined my passion for design, fine craft, and art with the skills I acquired and began designing and creating pieces for myself, family, and friends. There are few greater feelings than being in the studio visualizing and working through a design, creating memorable pieces, and sharing them.
In 2000, I turned this passion and skill into a business, establishing Against the Grain Studio.
From concept to design to the finished product, it is our goal to have you come away with a great experience, not just a purchase.  Our handcrafted pieces are designed to meet your needs, keep their value, and enhance your environment.  We strive to create something unique, functional, and beautiful that brings warmth to your surroundings and joy to your soul.
Our work is characterized by:
Traditional craftsmanship. We are a specialized workshop, not a factory.
Carefully selected materials. Each specific project presents a wide range of options. We use locally and regionally sourced wood whenever possible. Exotics are also available.
Solid wood construction. Veneers are only used when necessary.
Natural finishes. We strive to honor the wood's natural beauty.